Company News 2015
•

2015 - AES provided Quality Control (QC) / Inspection Services for ALBA B3 Expansion Project for Marathon Equatorial Guinea Production Limited (MEGPL).

The Alba complex of Marathon Equatorial Guinea Production Limited (MEGPL), is located approximately 30 kilometres offshore from the Punta Europa Gas Processing Complex on Bioko Island, Equatorial Guinea.

Under a production sharing contract, the field produces approximately 36,000 bbls/d (barrels per day) of condensate and 800 mmscfd (million standard cubic feet per day) of gas for delivery to various Punta Europa downstream customers. Compression is required to lower the wellhead pressures, and increase both condensate and gas recovery. In the field, there are two pre-existing, bridge-linked platforms, Alba B and Alba B2. The Alba B3 Compression Platform will be bridge-linked to the Alba B2 Platform as well. The compression platform will maintain the pressure at the onshore processing facilities at 75 barg.

MEGPL awarded an EPCI (Engineering/Procurement/Construction/Installation) contract to HFG Engineering (HFGE) in November 2012. Under a subcontract, Heerema Fabrication Group and Iv-Oil & Gas formed a joint venture to execute the Engineering, Procurement, Fabrication, Hook-up and Commissioning and Start-up. Heerema Marine Contractors was contracted under a separate contract by HFGE to perform the Transportation and Installation.

In 2014 the construction of the Alba B3 platform for operator Marathon E.G. Production Limited (MEGPL) started and was executed at multiple sites across the world.

In 2015 Alduco Engineering Services with its base in Malabo, Equatorial Guinea was awarded a contract to provide Quality Control (QC) / Non Destructive Testing (NDT) Services (RT- Radiographic Testing, UT- Ultrasonic Testing, PT – Penetrant Testing and MT- Magnetic Testing) for the Flare Boom and Bridge Structures. NDT Services was also provided for Piping and Structural Components on this ALBA B3 Project. Alduco Engineering Services carried out QA/QC & inspections services out of Equatorial Guinea and Holland were the bridge and its various structures were fabricated.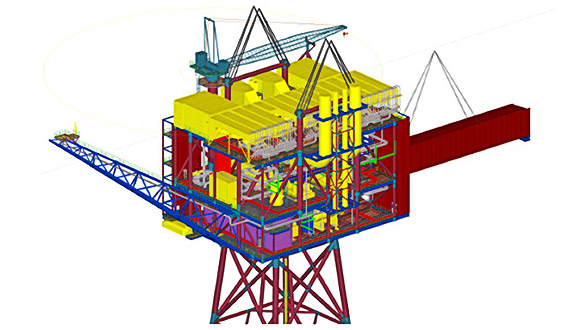 The 33-meter-long Bridge to connect the Alba B3 platform to the existing Alba B2 platform, and the 73-meter-tall Flare were built by the local subcontractor ECG (Equatorial Consolidated Group) in Malabo.
This B3 platform will be bridged to the existing B2 platform.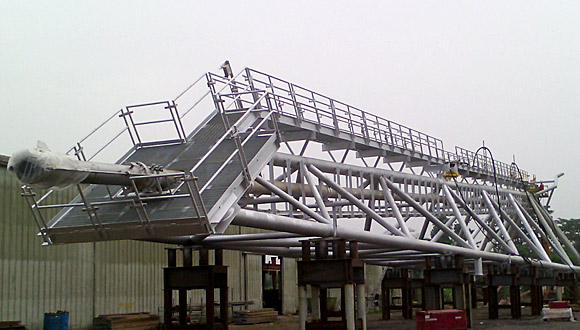 The flare structure and the bridge is executed in Equatorial Guinea as part of the local content of the Alba B3 gas compression platform project.
About Alduco Engineering Services
Alduco Engineering Services is an independently owned company providing Asset Integrity Management Services to the Oil and Gas industry based in Equatorial Guinea & Nigeria that provides services to the sector in the Gulf of Guinea.