Company News 2012
•

6th March 2012 - Alduco Energy at the Nigeria Oil and Gas Conference 2012

The International Conference Centre, Abuja, Nigeria played host again to the Nigeria Oil and Gas Conference 2012 edition and for the fourth consecutive year, Alduco Energy Limited participated in the exhibition, showcasing its products and services.

The Nigeria Oil and Gas Conference is the biggest annual Oil and Gas event of its kind in Africa. This year, the event took place from the 20th to the 23rd February and was attended by senior decision makers from various governments, the oil & gas sector, the private sector, facility owners, asset integrity managers, procurement executives, engineers, etc.

We at Alduco Energy displayed our products and introduced our services to visitors who came to our stand. These services include Cathodic Protection (both Onshore & Offshore), NDT and Risk Based Inspection.

We also in conjunction with our exclusive partner, Deepwater Corrosion Services Inc; a global leader in offshore corrosion engineering and Cathodic protection technology, displayed some of the world's most innovative patented life extension Cathodic Protection retrofit solutions for Oil and Gas infrastructure including FPSO's, platforms, pipelines, plants, etc.

These solutions are easy to install, cost effective and can be found on facilities of leading international oil and gas companies including Mobil, Chevron, Total, Shell, etc.

A large amount of people visited our stand and showed their interest in our products & services, especially the Cathodic Protection retrofit solutions and anti-corrosion pipe supports (I-Rod and Nu-Bolt Assembly) we offer in conjunction with Deepwater Corrosion Inc.

Alduco Energy is an indigenous firm fully aligned with Federal Government's directive on Nigerian Content Development plan and fulfilling her vision of local companies offering services to international standards. We are achieving this through the employment and training of locals who occupy managerial & technical positions in our organisation also by having Deepwater's personnel working alongside us from our offices in Port Harcourt, enabling us to give world class solutions to the oil & gas sector in Nigeria and the Gulf of Guinea.

In addition to our existing clientele we are leveraging on the contacts we made at the NOG 2012 and are already in discussions with several of these companies for our products / services.
A side view of the Alduco Energy stand at the NOG 2012.
Alfredo Jones (M.D. Alduco Energy Limited)
explains our CP solutions to a visitor.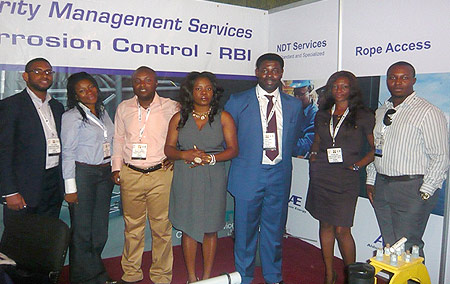 Team Alduco/Deepwater's group picture from Left to Right (Faith Essien,
Nse Ibeh, George Ogbeche, Rachael Maiye, Alfredo Jones, Offiong Udo
and Amobi Umeadi – Deepwater).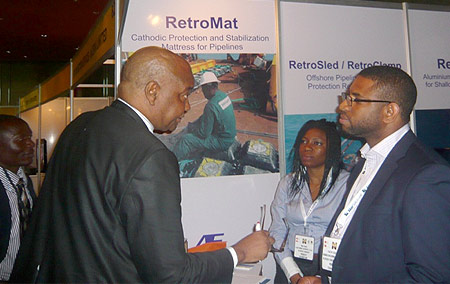 Faith Essien & Nse Ibeh listen to an official from
the Nigerian National Petroleum Corporation (NNPC).
George Ogbeche talking to visitors about
the benefits of our products & services.
Rachael Maiye showing visitors the Nu-Bolt assembly
for preventing corrosion at pipe supports.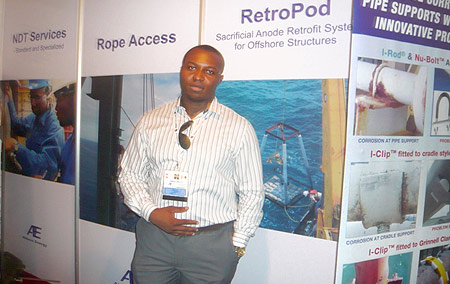 Amobi Umeadi - Deepwater representative in Nigeria.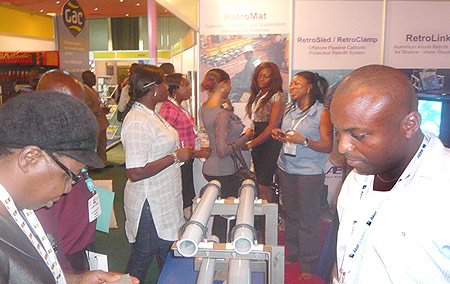 Several visitors at our stand enquiring about our products and services.